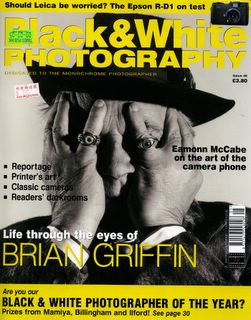 Black and White Photography (May 2005)封面專題介紹英國攝影師Brian Griffin在冰島舉行的
展覽, 從他在30年的攝影創作中選取126張照片展出. 專文從"influence"切入, 就談談他創作所受的影響. 整體歸納有以下幾點:
1) 他的太太, 冰島設計師及model Brynja Sverrisdottir, 以及冰島的地理文化傳統.
2) 超現實主義及表現主義油畫; 19世紀德國浪漫主義藝術家Casper David Friedrich.
3) 1910s及1920s年代的德國電影導演, 包括Fritz Lang(費朗茲; <大都會>導演)及FW Murnau(茂惱; <吸血疆屍>導演) 打破常規的誇張佈光,影像及剪接, 以及他們表現主義的手法.
4) 德國表現主義又帶領他去欣賞Otto Dix, George Grosz 與 Egon Schiele的油畫作品.
5) 蘇聯電影導演如Tarkovsky.
6) Franz Kafka(卡夫卡; <變形記>作者)的小說, 啟發他場景設計的模式.
Brian說: "One absorb an influence, you can't look at an image of say an Expressionist or Surrealist painter and simply recreate it. You soak in it and then it's in there, permeating like water running between lava before going underground"
最後他提到將會拍攝Iceland的人物肖像. 我們又拭目以待.
看來, 我們得學習Brian好學及不斷學習的精神, 但給人最後的啟發應該是:先娶個冰島老婆吧!